The fourth Valentine's Day event started on 14 February 2014 in V1.138. The objective was to exchange presents between friends/soulmates by saying love phrases in French to each other. One could have done this by sitting in one of the chairs on the event map with a soulmate in the chair next to you.
Using the sitting emote didn't work, one would have to sit by clicking the chair.
Also, the event added the option to marry other mice, accessible via the friend list.
Event changes
[
]
Due to the event, some shaman objects have changed. Also, the implementation of marriage changed a bit of the friend list and the profile.
Marriage and Divorce
[
]

Main article:
Marriage
To marry someone, one has to enter another username in the box and then click the marriage button. This request then has to be accepted by the mouse.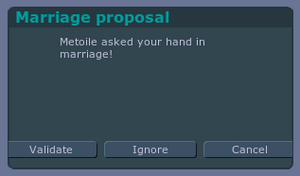 In order to divorce with a mouse, remove them from your friend list and then re-add them. Marriage cannot reoccur until one hour after the divorce.
Map
[
]
The map is a café in Paris, inside the café there are chairs, which you are going to use to sit and say the phrases.
Phrases
[
]
| Phrase | English translation |
| --- | --- |
| je t'aime | I love you |
| vous habitez chez vos parents | You live with your parents |
| j'ai faim | I'm hungry |
| bon appetit | Enjoy your meal |
| j'aime les sushis | I like sushi |
| j'adore les sushis | I love sushi |
| voulez vous danser avec moi ce soir | Would you like to dance with me tonight |
| mon chocolat | My chocolate |
| bonjour | Hello |
| bonsoir | Good evening |
| merci | Thank you |
| mon petit sucre | My little sugar |
| mon amour | My love |
| veux tu m'epouser | Would you marry me |
| tu as de beaux yeux | You have beautiful eyes |
| je pense a toi | I think of you |
| tu es la plus belle | You are the most beautiful |
| ma petite baguette | My little baguette |
| fais moi un bisous | Give me a kiss |
| mon petit croissant | My little croissant |
Rewards
[
]
Titles
[
]
Items
[
]
Items in this event where purchasable after the event ended for cheese / fraise.
Image
Name
Type
Cost
(pink hearts)
Year
Mascara
Eye
10
2011
Neck Tie
Neck
20
2011
Heart Earring
Ear
30
2011
Bow Tie
Neck
50
2012
Rose Headband
Ear
70
2012
Parasol
Neck
100
2012
Candy Apple
Mouth
150
2014
Bouquet
Mouth
200
2013
Heart
Tail
300
2013
Chocolate box
Mouth
400
2013
Teddybear
Head
500
2014
These items were only purchasable as normal items.
| Image | Name | Type |
| --- | --- | --- |
| | Marriage rings | Tail |
| | Heart Fur | Fur |
The message posted by admins in the forum
[
]
Love is in the air! And what's more romantic than a date in Paris? Take your soulmate to the best restaurant in the city, enjoy the beautiful view of the Eiffel tower and whisper lovely words while staring into each other's eyes.

Strive to be the most romantic lovers, thanks to the Valentine's French monitor! Whisper sweet words in French to your valentine by typing what's written on the screen. If you get at least X sentences right, your love will be enhanced and you'll be granted titles and items.
Take your date to the next level. As Papaille and Elise did, ask your lover's hand in marriage and share your love with the entire community. Click on the "marriage" button (available in the friend list) to marry your soulmate.
Your partner's name will be visible on your profile and a new icon will appear next to their name in-game. And that's not all! You will also play together in double shaman maps and fight maps. (/!\Your soulmate won't gain any saves and their points will not be lost.)
Suit up! Put on your best clothes for your date. One brand-new fur and 2 new items are also available in the shop. These items will be available ONLY during the event.
Trivia
[
]
Marriage was released alongside this event.
Gallery
[
]
Videos
[
]
References
[
]