Valentine's Day 2013 event's main objective was catching the hearts on the event map. With these hearts you could buy event-exclusive items, as well as unlock exclusive titles.
Gameplay
[
]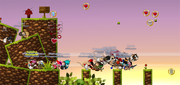 During this event your aim is to gather hearts! These are only available on the Valentine's day map. When you gather enough hearts, you will be able to purchase the special items! At the end of each event, you won't be able to purchase these items anymore!
There are three different maps. You can gather up to 4-11 hearts on each map!
Take care little mouse, the way is full of perils and pitfalls! You may fail if you're not quick enough and/or if you touch a skull mark! Pay attention and don't forget to take bonuses!
Map
[
]
This Valentine's Day event consisted of three maps. Each map was similar to what later became defilante; you would use powerups to navigate the maps. Some powerups would help you, while other would kill you.
Map 3's layout was similar to the Valentine's 2012 map; the setting is also a restaurant decorated Valentine's-themed decorations and objects. However, the map for this year was less detailed.
Titles
[
]
Buying event items earned a random title each time:
Image
Name
Type
Valentine's Day
Event Year Release
Eyeliner and Mascara
Eyes
10
2011
Neck Tie
Neck
20
2011
Heart Earring
Ears
50
2011
Bow Tie
Neck
60
2012
Rose headband
Ears
100
2012
Parasol
Neck
100
2012
Heart-shaped candy box
Mouth
150
2013
Bouquet
Mouth
200
2013
Heart
Tail
300
2013
Images
[
]
Videos
[
]
References
[
]
External links
[
]