Jurassic World: Dominion Dominates Fandom Wikis - The Loop
Play Sound
For the person you're married to, see Marriage. For a list of soulmate maps, see Category:Soulmate maps.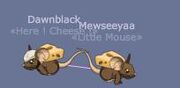 A soulmate is a mouse you are attached to with a string, and have to cooperate with to get the cheese. This feature is present in some vanilla maps, like maps 82, 83, 84, 87 and 88. Custom soulmate map can also be created, by clicking "Soulmate" in map editor.
Shaman skill Solitary

gives the shaman no soulmate on soulmate maps.
A bug with skill Go Through There!
allows the shaman to break the link between two mice if one of the mice is shrunk.
Explanation
[
]
Soulmate maps have a heart icon in the top-left corner, below the map's number. In soulmate maps, all mice will have a random soulmate, which is chosen when joining a room (if the players don't change room, the soulmate will stay the same for next soulmate map).
A mouse is attached to its soulmate with a pink string, which is elastic, but doesn't expand far. They should cooperate to finish the map, or they will fail the map. Communication between soulmates should be made, to prevent accidental death.
If there is an unpaired number of mice in the room, one mouse will not have a soulmate, sometimes rendering the level impossible.
The shaman will also have a soulmate, unless the shaman has the Solitary skill in the Physicist skill tree.
Idle mice and trolls will usually make their soulmate fail the map, either by weighing them down while wall jumping, pulling their soulmate off a cliff, or other activity that could result in death.
Difficulties
[
]
Notes
[
]
If the shaman revives the mice using the Ambulance skill, soulmates won't be reconnected.
Bugs
[
]

Bug
If a
balloon
is attached to both soulmates and they both detach from their balloons, they will no longer be bonded with each other.

Bug
Sometimes, if one mouse goes into the
mouse hole
, the other mouse will still be bound on the string, which is now attached with the mouse hole. This does not affect the mouse's movement, though. It is merely a visual bug.
Gallery
[
]