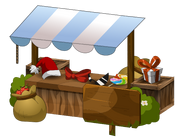 The shop is a selection that is available from the

menu dropdown. The currencies are

cheese and

fraises, with the exception of certain holiday currencies such as

hearts,

eggs,

presents, or

fishbowls.
Titles can be earned from obtaining items, whether it is from completing event maps, purchasing items in the shop, or a combination of the two. They range from the "Nice Mouse" title, given after obtaining one item, to the "SuperStar" title, given after obtaining 50 items, after purchasing a 51st item, you will obtain the "Nice Mouse ★" Title.
You can click the image to enlarge it. If images don't appear, try scrolling up/down.
Cheese per Fraise (

) shows how much cheese each fraise is worth for that item. A higher cheese-per-fraise means a better deal when buying an item with fraises (since each fraise is "worth more").
The number on the "ID" column can be found by using the "/infoshop" chat command. IDs are unique identifiers for that category. IDs are usually indicative of the order items were added to the game.