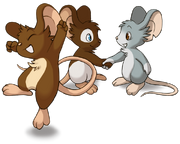 Referral was added on 21 November 2013 (V1.125) to encourage promotion of Transformice.
You had to enter /parrain in the chat and a window with the link would open. To refer other players, send the link contained in the message. All players who created a game account from this link would automatically be your referee. You get 1 cheese

(up to a maximum of 100) for every 10 cheeses collected by them.
Gallery
[
]
External links
[
]