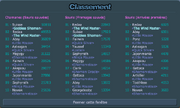 Ranking was a chat command in Transformice. It displayed the current highest scorers in the categories of mice saved, gathered cheese, and cheese gathered first. Ranking was accessed by typing "/ranking" in the chat.
There are unofficial leaderboards at fansites with use of the Transformice API, such as Cheeseformice.
On 12 May 2022 (V1.700), the Hall of Cheese leaderboard was added.
Gallery
[
]
See also
[
]
External links
[
]