Jingle, also called Santa Mouse, or Santa Maus, is the third introduced character in Transformice. He is essentially a representation of Santa Claus.
Jingle made his debut in the Christmas 2010 event (V0.124), on map 888 (his premier abode) next to the Christmas tree.
Jingle wears a Santa hat on his head as well as a white beard that covers the bottom half of his face. He also has a smoking pipe in his mouth. His eyes are a lighter tone of red compared to his red ornament earring. He does not wear a skin as he is depicted with the default brown color.
Jingle is seen in his old abode where presents are exchanged. He was the only mouse on map 888 that could not receive or give any presents. Some mice hid behind Jingle and told the other newer mice to "double click" Jingle in order to receive presents from Jingle. However, instead of receiving presents, they gave their presents to the mice hiding behind Jingle.
After hosting the Christmas 2010 event, he went on a vacation exploring places all around the world. His salutation headline was "I'm sure several lucky mice had the pleasure to meet him; share your exciting stories on the forums if you did!".

Jingle returned and welcomed mice to enter his renovated and more cozy abode for Christmas.
His headline was "Don't forget to bring some milk and cookies for Santa Maus and his reindeers!".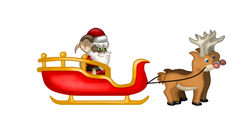 Jingle appeared on the cover of a consumable puzzle piece.
Jingle also visited Nuremberg's Streets, and was referred to as "Santa Maus" in this instance. He had dropped his toy bag while distributing gifts, and all of the gifts fell below and landed on some clouds and the street. Mice had to help him collect them and load them back into the sleigh.

A fragment in the Fishing 2015 event had Jingle on it.
Jingle appeared in one of the pictures of the 6th Anniversary event.
Jingle was re-introduced as a shop during the Christmas 2017 event and also appeared as a relic.

Soulmate coins could be traded to him at Jingle's exchange for old titles, badges, and cheese coins.
Characters
Deities
Story NPCs
Minor NPCs
Not in-game
Other
Community content is available under
CC-BY-SA
unless otherwise noted.