The Halloween 2020 event maps are the same from previous years. You have to collect a series of different Halloween items which include broomsticks, cat skulls, door handles and candy bags. You will also be able to collect candy throughout the event which you use on the slot machine map for some prizes!
The event also features over a thousand maps edited with a Halloween theme and Halloween event daily quests.
While event hopping is possible for this event, anti-hopping mechanisms prevent more than two of the event currencies (other than candy and candy bags) from being obtained until the next set of event maps. Event maps appear every 10-15 minutes.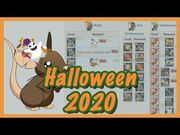 | Image | Name | Limit | Unlock |
| --- | --- | --- | --- |
| | Broomstick | 250 | Collect on flappy mouse map |
| | Cat skull | 250 | Kill the skeleton cat |
| | Door handle | 250 | Random prize from opening door map |
| | Candy bag | | Collect on collector maps |
| | Candy | 250 | Collect on event maps |
On the flappy mouse map, press up to fly on your broom and pass through the thorny vines. Watch out though, as if you touch one of them or die, you will be sent back to the beginning of the map! There are two broomstick items on the map, one is somewhere within the vine maze and one is at the end.
On the skeleton maps, press space bar to hit the skeletons, ghosts and even the cat on the third and final map with your wand! Beware of each enemy as they can damage you, if you come into contact with them. Kill the skeleton cat on map 3 to get a cat skull.

Bug
If not enough players get to the hole, the next map in the series won't play, preventing the player from getting to last map
On the opening doors maps, you will see two flashing arrows directing you where to go. You need to choose carefully as one area will reward you with candy and potentially a door handle, however the other will be a trick and you might be killed.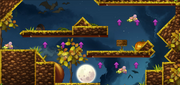 There are a several maps which contain 3 stacks of candy on them. Each time your mouse collects one stack, they will become heavier and you can carry a maximum of 3 stacks per map. 1 stack of candy contains 2 candy pieces, 2 stacks contain 5 candy pieces and 3 stacks contain 12 candy pieces. The candy pieces will only go into your inventory once you bring all of the collected stacks to the mouse hole.
| # of Stacks | | Rewards |
| --- | --- | --- |
| 1 | 1 | 21 |
| 2 | 2 | 52 |
| 3 | 3 | 123 |

On the manor map, you can collect candy and exchange your items for various rewards in the NPC shops. The casino map will play right after in which there will be 3 slot machines. Here, you can spend all the candy you've collected over the maps. The first slot machine will cost you 1 candy, the second machine will cost you 2 candy and the third machine will cost you 3 candy. Each slot machine will yield you different prizes, including titles, candy, consumables and even cheese! If you're feeling extra lucky, you might even will the grand prize – the jackpot!
Here we have the sequence that the event maps follow in a particular room. First, the Manor map appears. On the next round, one of the three old maps, Skeleton Cat, Flappy Mouse or Opening Doors, chosen randomly comes. Then we get a round of Candy Bag, followed by another old map, but this time we can't expect the old map that appeared previously in the sequence, only one of the two remaining Skeleton Cat, Flappy Mouse or Opening Doors maps. Next one is again a Candy Bag and this time we can know which of the three old maps, Skeleton Cat, Flappy Mouse or Opening Doors, will come, the one that has not appeared yet in the sequence. The last map before the sequence restarts is yet another Candy Bag map.
(The Manor map is always followed by the Casino map, the Skeleton Cat map is actually a sequence of three maps and the Opening Door and Candy Bag maps are selected randomly from their respective "map bouquets", so to speak.)
Buffy

| Cost | Reward |
| --- | --- |
| 50 | New |
| 50 | New |
| 50 | New |
Voldemouse

| Cost | Reward |
| --- | --- |
| 5 | 3 |
| 35 | 1 |
| 35 | 1 |
| 35 | 1 New |
| 35 | 1 New |
| 20 | 1 |
| 10 | 1 |
| 20 | 1 |
There is a total of 80 adventure points available for this event and you'll receive 20 points for each objective you complete! You will receive 20 points for collecting 50 brooms, 20 points for collecting 50 cat skulls, 20 points for collecting 50 door handles and 20 points for using 10 consumable skins!
For things labeled "personally gather", trading does not count towards the amount. Instead, the amount logged on your Adventure Calendar are those amounts that matter. Buying event items from Von Drekkemaus using candy bags also counts towards the "personally gather" total.
Reward
Requirement
20
Personally gather 50
20
Personally gather 50
20
Personally gather 50
« Transformist »(427)20
Equip 10 skins.

Note: You can do this quickly by using a skin, and then equipping a fur. The fur will remove the skin, allowing you to immediately use one again.

« Vampire »(287)
Say "Bonbon" on the chest on map 2 of the cat skull series
« Ghostbuster »(345)
Get on the middle slot machine
« Trick or Treat »(303)
Get on the right slot machine
« Scooby Doo »(372)
Get on the left slot machine
« Earthworm »(488) New
Get on the middle slot machine
« Jack-o'-lantern »(489) New
Get on the right slot machine
Winning the jackpot on the casino map awards every reward from the Halloween 2020 event (except adventure calendar rewards such as « Transformist »(427)), 1 Halloween event chest, 1 global event chest, 1 red ticket and the inventory limit of some consumables from the slot machines.
The candy bag map codes are @7645926 @7645969 @7645976 @7646472 @7646825 @7646961 @7646966 @7646968 @7648814 @7649103 @7650888 @7650891 @7650892 @7650894 @7650904 @7650923.
Events
2021 adventures
February
March
May
2020 adventures
February
March
April
May–June
July-August
September-October
October-December
December
2019 adventures
January
February
March
Summer (June–August)
October
December
2018 adventures
February
March–May
June
October
December
2017 adventures
January
February
March + April
May + June + July
August–November
December
2016 adventures
January
February
March
April
May
Summer (June–August)
September–November
December
Older events
2010
2011
2012
2013
2014
2015
Traditional events
Adventures
Other events
Community content is available under
CC-BY-SA
unless otherwise noted.