Description
[
]
The overall goal of the event is to collect

Candy (available on almost all event maps) and use them in the casino map.
All event inventory items are tradeable. While event hopping is possible for this event, anti-hopping mechanisms prevent more than two of the event currencies (other than candy) from being obtained until the next set of event maps.
Event map appears every 30 min. (as of Version 1.412)
Event specific

| Image | Name | Limit | Unlock |
| --- | --- | --- | --- |
| | Candy | 250 | Collect |
| | Broomstick | | Collect on Flappy Mouse map. |
| | Cat Skull | | Kill the skeleton cat |
| | Door Handle | | Random prize from door map. |
Maps
[
]
2012 Maps
[
]
These maps play back-to-back. On all 3 of these maps, you start with 4 lives, and can attack by pressing Space.

Bug
Sometimes the next map in the series won't play, preventing the player from getting to last map
Map #1
[
]
This map appears first during the event. The main objective is to collect

candy (map has 10 total) while making your way to the mouse hole under the fortress at the end of the map, while there is an obstacle to get through before it. Skeletons will spawn on top and bottom of the obstacle and ghosts will spawn above the fortress, eventually making their way down the fortress. To proceed to next map at least 3 mice have to enter the mouse hole.
Map #2
[
]
This map appears second during the event. The first half of the map is mostly a flat surface, following a staircase, which then leads to an area that includes the mouse hole. Skeletons scatter in the flat area in the first half of the map, being blocked by a table so that it doesn't interfere with the spawning point, and ghosts scatter in the area that includes the mouse hole, although being blocked by a barrel so that it doesn't interfere with the mouse hole. This map has 10

candy to collect.
« Vampire »(287) is earned by reaching the chest behind the ghosts and saying "bonbon" (candy in French).
Skeleton Cat (Map #3)
[
]
Returning again for another year, the room defeating the Skeleton cat will earn 1
skeleton cat item. This map also has 3

candy available to collect. Requirements for obtaining skull is being alive when the map starts, moving (to avoid AFK status), and the skeleton dying (with or without your help). Based on requirements for winning, it is recommended (as mentioned above) that at least one mouse stand on the ghost spawn point (slightly left of the RIP stone on the map) to prevent ghosts from spawning.
Flappy Mouse
[
]
A swarm of mice witches needs to get through the pumpkin patch! Watch out for these thorny vines! You can earn 10[confirm]

candy and

broomsticks on this map. If you die, you will respawn. However, if you do not move as soon as the map starts and die, you will not respawn. If you manage to get to the end of the map, there is a second broom available.
The Opening Doors Map
[
]
There will be two arrows, pointing at where to go. You must go to one of the places where the arrows are pointing within five seconds. At one area, there will be two pieces of

candy (10 possible to earn each map) and a random chance of a

. However, the other area, there will be a miscellaneous surprise waiting for you. A list of possible surprises includes pit-falling, automatic-kill, ice cubes, balloons, meep, bombs, spirits, and cannons.
Von Drekkemaus Manor
[
]
Like previous years this map has

candy, with this year there being 20 pieces. This is also the map you find the event NPCs on for trading in your various non-candy event currencies (at the dining room table). Mice spawn at various different areas on this map, making no 1 strategy for collecting candy the most optimal.
Casino Map
[
]
See the "slot machines" section below for potential prizes.
Rewards
[
]
Adventure calendar
[
]
Note that for these rewards you must earn the handles / skulls / brooms personally (not through trading). You can keep track of your progress on your adventure calendar. Trading them away does not lower your progress, so you can safely use them in shops or trade with another player.
| Reward | Requirement |
| --- | --- |
| « Transformist »(427) New | Equip 10 skins. Note: You can do this quickly by using a skin, and then equipping a fur. The fur will remove the skin, allowing you immediately to use one again. |
| New | Collect (not trade) 50 50 Cat skulls. |
| « Chestnut »(426) New | Collect (not trade) 50 50 Door Handles. |
| New | Collect (not trade) 50 50 Broomsticks. |
| Image | Name | Effect |
| --- | --- | --- |
| | Leaves | Autumn colored leaved swirl around you and then drift down. Unlike snow, the leaves follow you as you move. |
| | Orange Brush | Lets you draw (just like other brushes). |
Shops
[
]
You earn rewards by handing in your rewards to the various NPCs list below, found on the Von Drekkemaus Manor map (at the dining table).
Slot Machines
[
]
To gain a reward, you must get 3 of a kind. Using each machine costs (from left to right): 1

, 2

, 3

. Note that some combinations never happen. If the round ends while a slot machine is running, you will still earn the reward during the next map.
Earning the Jackpot earns you: max candy (set to 250), max Halloween-themed consumables, and every old title and badge that is normally available at the slot machines and the Mansion map's NPC vendors.[2] Upon earning a jackpot, the game sends a server-wide message informing everyone who won the Jackpot.
New combinations seem to give random (or at least multiple) results.

Bug
When you win 15 candy from the slot machine you become invisible until you move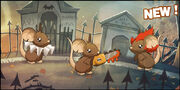 | Image | Name | Type | | |
| --- | --- | --- | --- | --- |
| | Pennywise Hair | Hair | 300 | 40 |
| | Chainsaw | Mouth | 400 | 50 |
| | Clown Collar | Neck | 300 | 40 |
Trivia
[
]
This is the first Halloween a new fur hasn't been released since furs were added to the game.
Gallery
[
]
Videos
[
]
References
[
]
External links
[
]