Flame vs Frost is the second VS event in Transformice. You could choose your side by purchasing the fur, item or Fashion Squad outfit of your favourite side. You could also choose your side by posting a selfie of your mouse wearing an outfit either in the Atelier 801 forum announcement thread or in the Transformice Discord #fashion channel using the phrase #TeamFlame or #TeamFrost.
The winning side was Flame and their extra item

was added to the shop on 7 January 2021 (V1.615).
Shop items
[
]
Flame
[
]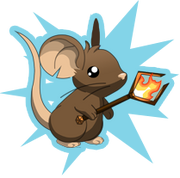 | Item | Name | | | Badge |
| --- | --- | --- | --- | --- |
| | Flame glasses | 300 | 40 | ∅ |
| | Phoenix | 7000 | 500 | |
| | Flame wand | 1200 | 220 | ∅ |
Frost
[
]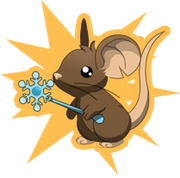 | Item | Name | | | Badge |
| --- | --- | --- | --- | --- |
| | Snowflake | 1200 | 120 | ∅ |
| | Ice | 7000 | 500 | |
Gallery
[
]
Videos
[
]
See also
[
]
External links
[
]
Shop events
VS
Other