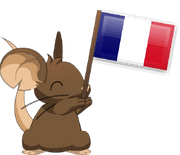 Flag waving is done by typing chat command /f [country code], where "country code" is the case-insensitive alpha-2 ISO code. Only the first two letters after /f matter (e.g. /f france, /f freeze, and /f fRabcdefg will all result in waving the French
flag).
Typing in an incorrect country value (using first 2 letters) will result in you waving a stick.
Example: Use /f fr to wave the French flag.
Using the /f with one or less parameters afterwards will result in your player mouse waving the flag of the country of your current IP address. For example, if you live in France and are using a French IP address or proxy, your player mouse will wave the French flag when just using the "/f" or "/f z" command.
Flag waving was added on 11 June 2014 in V1.165.
From 3 March 2022 (V1.689) to 10 June 2022 (V1.706), waving a flag showed

instead of a country flag. This was due to the Russian invasion of Ukraine in 2022.
Where is [flag]?
[
]
The list below contains all the supported flags. Note that only country flags are supported (with the exception of Antarctica (AQ), which is a continent with no countries).
Where is LGBT / BLM / etc flag?
Not a country, so there is no such flag at this time.
Where is the flag for Scotland / Wales / Great Britain / US State / etc?
As not all places have a country code (as they are not a country, or are part of a larger single "entity"), some places do not have an option to show a flag, even if a flag exists for that place (Example: Scotland, Wales, and Great Britain used to be countries and are geographical areas / countries with their own flags, but do not possess individual country codes as they are all part of the single sovereign state, the United Kingdom).
List
[
]
You can choose what flag to wave by choosing one of the abbreviations below.
| Flag | Country | Abrv |
| --- | --- | --- |
| | Afghanistan | AF |
| | Albania | AL |
| | Algeria | DZ |
| | Andorra | AD |
| | Angola | AO |
| | Anguilla | AI |
| | Antarctica | AQ |
| | Antigua and Barbuda | AG |
| | Argentina | AR |
| | Armenia | AM |
| | Aruba | AW |
| | Australia | AU |
| | Austria | AT |
| | Azerbaijan | AZ |
| | Bahamas | BS |
| | Bahrain | BH |
| | Bangladesh | BD |
| | Barbados | BB |
| | Belarus | BY |
| | Belgium | BE |
| | Belize | BZ |
| | Benin | BJ |
| | Bermuda | BM |
| | BES Islands | BQ |
| | Bhutan | BT |
| | Bolivia | BO |
| | Bosnia and Herzegovina | BA |
| | Botswana | BW |
| | Bouvet Island (Norway) | BV |
| | Brazil | BR |
| | British Virgin Islands | VG |
| | Brunei | BN |
| | Bulgaria | BG |
| | Burkina Faso | BF |
| | Burma (Myanmar) | MM |
| | Burundi | BI |
| | Cambodia | KH |
| | Cameroon | CM |
| | Canada | CA |
| | Cape Verde | CV |
| | Cayman Islands | KY |
| | Central African Republic | CF |
| | Chad | TD |
| | Chile | CL |
| | China | CN |
| | Christmas Island | CX |
| | Cocos (Keeling) Islands | CC |
| | Colombia | CO |
| | Comoros | KM |
| | Cook Islands | CK |
| | Costa Rica | CR |
| | Croatia | HR |
| | Cuba | CU |
| | Curaçao | CW |
| | Cyprus | CY |
| | Czech Republic | CZ |
| | Denmark | DK |
| | Djibouti | DJ |
| | Dominica | DM |
| | Dominican Republic | DO |
| | Ecuador | EC |
| | Egypt | EG |
| | El Salvador | SV |
| | Equatorial Guinea | GQ |
| | Eritrea | ER |
| | Estonia | EE |
| | Ethiopia | ET |
| | European Union | EU |
| | Falkland Islands | FK |
| | Faroe Islands | FO |
| | Fiji | FJ |
| | Finland | FI |
| | France | FR |
| | French Guiana | GF |
| | French Polynesia | PF |
| | Gabon | GA |
| | Gambia | GM |
| | Georgia | GE |
| | Germany | DE |
| | Ghana | GH |
| | Gibraltar | GI |
| | Greece | GR |
| | Greenland | GL |
| | Grenada | GD |
| | Guadeloupe | GP |
| | Guam | GU |
| | Guatemala | GT |
| | Guernsey | GG |
| | Guinea | GN |
| | Guinea-Bissau | GW |
| | Guyana | GY |
| | Haiti | HT |
| | Heard Island and McDonald Islands | HM |
| | Holy See (Vatican City) | VA |
| | Honduras | HN |
| | Hong Kong | HK |
| | Hungary | HU |
| | Iceland | IS |
| | India | IN |
| | Indonesia | ID |
| | Iran | IR |
| | Iraq | IQ |
| | Ireland | IE |
| | Isle of Man | IM |
| | Israel | IL |
| | Italy | IT |
| | Ivory Coast | CI |
| | Jamaica | JM |
| | Japan | JP |
| | Jersey | JE |
| | Jordan | JO |
| | Kazakhstan | KZ |
| | Kenya | KE |
| | Kiribati | KI |
| | Kuwait | KW |
| | Kyrgyzstan | KG |
| | Laos | LA |
| | Latvia | LV |
| | Lebanon | LB |
| | Lesotho | LS |
| | Liberia | LR |
| | Libya | LY |
| | Liechtenstein | LI |
| | Lithuania | LT |
| | Luxembourg | LU |
| | Macau | MO |
| | Madagascar | MG |
| | Malawi | MW |
| | Malaysia | MY |
| | Maldives | MV |
| | Mali | ML |
| | Malta | MT |
| | Marshall Islands | MH |
| | Martinique | MQ |
| | Mauritania | MR |
| | Mauritius | MU |
| | Mayotte | YT |
| | Mexico | MX |
| | Micronesia | FM |
| | Moldova | MD |
| | Monaco | MC |
| | Mongolia | MN |
| | Montenegro | ME |
| | Montserrat | MS |
| | Morocco | MA |
| | Mozambique | MZ |
| | Namibia | NA |
| | Nauru | NR |
| | Nepal | NP |
| | Netherlands | NL |
| | New Caledonia | NC |
| | New Zealand | NZ |
| | Nicaragua | NI |
| | Niger | NE |
| | Nigeria | NG |
| | Niue | NU |
| | Norfolk Island | NF |
| | North Korea | KP |
| | North Macedonia | MK |
| | Northern Mariana Islands | MP |
| | Norway | NO |
| | Oman | OM |
| | Pakistan | PK |
| | Palau | PW |
| | Palestine, State of | PS |
| | Panama | PA |
| | Papua New Guinea | PG |
| | Paraguay | PY |
| | Peru | PE |
| | Philippines | PH |
| | Pitcairn Islands | PN |
| | Poland | PL |
| | Portugal | PT |
| | Puerto Rico | PR |
| | Qatar | QA |
| | Réunion | RE |
| | Romania | RO |
| | Russia | RU |
| | Rwanda | RW |
| | Saint Barthelemy | BL |
| | Saint Helena | SH |
| | Saint Kitts and Nevis | KN |
| | Saint Lucia | LC |
| | Saint Martin | MF |
| | Saint Pierre and Miquelon | PM |
| | Saint Vincent and the Grenadines | VC |
| | Samoa | WS |
| | San Marino | SM |
| | Sao Tome and Principe | ST |
| | Saudi Arabia | SA |
| | Senegal | SN |
| | Serbia | RS |
| | Seychelles | SC |
| | Sierra Leone | SL |
| | Singapore | SG |
| | Sint Maarten | SX |
| | Slovakia | SK |
| | Slovenia | SI |
| | Solomon Islands | SB |
| | Somalia | SO |
| | South Africa | ZA |
| | South Georgia & South Sandwich Islands | GS |
| | South Korea | KR |
| | South Sudan | SS |
| | Spain | ES |
| | Sri Lanka | LK |
| | Sudan | SD |
| | Suriname | SR |
| | Svalbard | SJ |
| | Swaziland | SZ |
| | Sweden | SE |
| | Switzerland | CH |
| | Syria | SY |
| | Taiwan | TW |
| | Tajikistan | TJ |
| | Tanzania | TZ |
| | Thailand | TH |
| | Timor-Leste | TL |
| | Togo | TG |
| | Tokelau | TK |
| | Tonga | TO |
| | Trinidad and Tobago | TT |
| | Tunisia | TN |
| | Turkey | TR |
| | Turkmenistan | TM |
| | Turks and Caicos Islands | TC |
| | Tuvalu | TV |
| | Uganda | UG |
| | Ukraine | UA |
| | United Arab Emirates | AE |
| | United Kingdom | GB |
| | United States | US |
| | Uruguay | UY |
| | US Virgin Islands | VI |
| | Uzbekistan | UZ |
| | Vanuatu | VU |
| | Venezuela | VE |
| | Vietnam | VN |
| | Wallis and Futuna | WF |
| | Western Sahara | EH |
| | Yemen | YE |
| | Zambia | ZM |
| | Zimbabwe | ZW |
Gallery
[
]