For shaman fights, see Dual Shaman.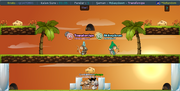 Fight is a module coded by Ediz #0095, Lays #1146 and Mckeydown #0000 and released October 2013 (or earlier).
It was originally released in 2011.
Rules and features
[
]
Don't spawn any objects in the first 10 seconds!
Totems are forbidden!
Shield etc. is forbidden!
Skills are disabled
Minigame mods name is red
Hold [CTRL] to see the scoreboard
 
If you are first on the scoreboard your name is yellow
Created items will be destroyed after 10 seconds.
If the fight is longer than a minute a bet screen will be shown.
Send your maps: http://www.transformice.com/forum/?s=471311&p=0
If you want to PvP with someone easily, you can go #easypvp!
Don't use divine mode or you will be killed!
Stats will be counted when there are 6 mice or more mice in the room.
If you have died, but won the bet, you'll enter the hole
Controls
[
]
Type !help or press H to see help.
Hold Ctrl to see scoreboard.
Press P to see your stats.
!die or !mort - to die, you can't use this command until the fight has started.
!lang or !langue [FR/EN/TR/BR/RU] - change language of the messages (they're only visible for you).
!maplist - show map list.
!queue - show map queue.
!stats [username] - shows the stats of a specified player.
Game modes
Minor game modes
Removed game modes
Module

Semi-official modules
Removed modules