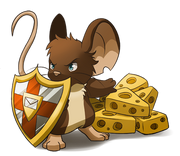 Creating a Transformice account requires providing an email, and although validating it is not required, it is advised to do so if you can.
Registering your email provides the following:
Allows you to easily recover your account if stolen or lost.
Gives you a free cheese earring .
Allows you to gift presents to friends (still requires 30 hours of play and fraises).
How to register email
[
]
To register an email to your account, go to the My account section on Atelier801.com and go to the Link email tab.
You will then need to enter your email address and then press Submit. Once this is done, you will be prompted to check your email for the 5 digit code. Once the code is entered on the page and Submit is pressed, your account will be validated. You will then receive the Cheese Earring item at your next login. Your account will automatically be wearing it once this is done.
After registering your email, you will then receive an email. This email has no other purpose than to tell you that your email has been validated.
How to change email
[
]
You can change your linked email on the "My account" section on the Atelier 801 website (http://atelier801.com/account).
Changing email without access to original email account
[
]
For details on how to do this, read this forum post (in short you need to prove it's your account). After you have all your info ready, you can request an email change through the official contact form.
Trivia
[
]
The ability to change your email/password on the forums was added on 11 January 2016. Before this, email requests had to be done through a ticket request.
Accounts could be created without an email before the 2018 nickname system.
Gallery
[
]