During this event, Easter eggs

are located on a certain location on certain vanilla maps. Mice can add to their egg count by completing the map with the egg.
Items will be unlocked at 10, 30, 60, 100, 150, 200, 250 and 300 eggs, however each amount of eggs unlocks only a specific item, some of which are from past holidays or just regular items. Items introduced in this update are distinguished from others in the table below.
There must be a minimum number of 5 mice on a map for eggs to be added to their egg count.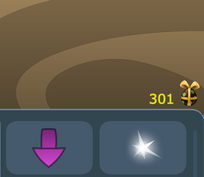 Items
[
]
Names in green are exclusive Easter Items. Blue items are from Christmas 2010.
Item
Eggs
Type
Red Ornament
10
Ear
Pink Bow
30
Ear
Straw
60
Mouth
Ribbon
100
Head
Bow Tie
150
Mouth
Bunny Ears
200
Head
Easter Basket Hat
250
Head
Bell Necklace
300
Neck
Videos
[
]