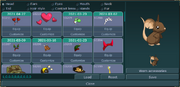 Dressing is a chat command that lets you try out shop items to make outfits. Previously a Fashion Squad command, it became a player command on 14 January 2021 (V1.616).
You can also save an image of your outfit, share the code of your outfit with others and load outfits others have made.
The date displayed on some of the shop items is an indication used by the Fashion Squad to know when an item has been out for two months. They do not use items which have been released less than two months ago in outfits.
V1.616: command usable by players. Only items used by the Fashion Squad team (i.e. items purchasable with fraises) are available for now. You cannot see cheese items, colors or special items like Japan Expo, special furs, etc.
V1.618: All shop items can now be used.
V1.621: Fur colors added.
Community content is available under
CC-BY-SA
unless otherwise noted.