The Dragon 2017 enigma was a community event where users randomly obtain postcards from NPCs and the community must work together to figure them all out. The reward for the enigma is « Little Monkey »(418).
To solve the enigma, you must have a pet dragon following you and say "PAPULATRAXAS" in chat while standing under the dragon head.
Postcards
[
]
Solution
[
]
The first postcard from Papaille means that the enigma would start on 28 January. The enigma can be divided into 4 parts, with each NPC responsible for a part.
Indiana Mouse
[
]
Indiana Mouse's postcards indicate that you must hold down for 5 seconds on top of the bush on the tutorial map (map 900). By doing this, you receive the PAP code in the chat.
Papaille
[
]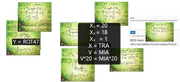 Papaille's postcards involve a lot of math to solve. To find out X₁, just plug the equation into a ROT47 decoder . X₂ and X₃ are math problems that have no "secret". By substituting the three variables, X = TRA.
To make it easier, two cards were added just to confirm the result. If you applied a vigenère decoder to X, you would find that V = MIA. V*20, i.e. MIAMIAMIAMIAMIAMIAMIAMIAMIAMIAMIAMIAMIAMIAMIAMIAMIAMIAMIAMIA placed in an MD5 Hash generator would lead to the code indicated in the last letter, proving that the result (TRA) is correct.
Elise
[
]
Elise's postcards have a result of 10. Together with the dress postcard (dance emote), you have to gather 10 mice and dance. The highlighted map is map 6. When doing this, the XAS code was shown in the chat.
Buffy
[
]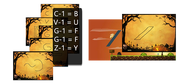 The feather postcard indicates that this puzzle piece involves the shaman. There are 5 item cards and each one has a letter; if you subtract 1 from each, it will form "Buffy". This indicates the order in which the items must be summoned, while the ramp board indicates that this must be done on map 4. When doing this, the ULA code was shown in the chat.
Order of postcards
[
]

Each NPC has a special postcard, which is indicated by the + sign. These postcards indicate that you should use the pet dragon

during the dragon map (2005) and type something in the chat. In this case, they are the codes obtained by each NPC together: PAP + ULA + TRA + XAS. You should say "PAPULATRAXAS" in chat (capitalization doesn't matter) while standing under the dragon head.
Videos
[
]
External links
[
]