Cybus is a character who sells rewards in the Ol' Souris bar, added in the Saint Patrick's Day 2020 event.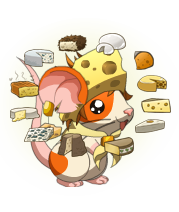 "
Cybus is a real cheese enthusiast. He comes from a small cheese farm where he grew up with his grandparents. He learnt the ins and outs of producing cheese and now he sells his products to everyone. Mice say he gives the best you could ever taste! He's also the leader of the Cheese Farmers Association which is a fan club of... you guessed it, cheese.
"
― Saint Patrick's Day 2020 announcement
"
Many of you asked what happened with Cybus during the last event. Mice couldn't get enough of the delicious cheese, and he went out of stock pretty fast. Luckily, his friends came to the rescue and gave him the idea of selling seashells instead! Cybus ran back to the farm and then got back with a bunch of shells. For Easter, Cybus has decided to give out a few to everyone who completes the map!


But now another mouse is interested in these items as well... His name is Mousini.

"
― Easter 2020 announcement
Characters
Deities
Story NPCs
Minor NPCs
Not in-game
Other
Community content is available under
CC-BY-SA
unless otherwise noted.