Description
[
]
In this event, one must collect

presents. This can be done two ways: collect a present on a normal map and get it (along with the cheese) back to the hole, or simply play the ski map.
green presents, is to receive red presents from another player through trade. This transforms them to green presents. Usually, two players agree to exchange an equal number of red presents through trade, so they can both convert their red presents to green. Receiving green presents through trade has no effect on the presents; they remain green.
When the whole map is snowing (not to be confused with small area snowing from
), one can spam ↓ to collect snowballs. This only lasts for approximately 10 seconds.
Maps
[
]
Like previous years, you can collect presents on normal maps
Ski
[
]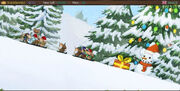 There is a map where mice have to ski and grab the red gifts scattered across the map without hitting the obstacles or landing on their head.
Players can press ← or → to rotate their mice, ↑ to jump, and ↓ to slow down. The player has to use the controls to traverse the map, grab presents, and avoid death.
Christmas Stocking
[
]
This Lua event was added on 16 December 2016 (V1.345), 2 weeks after Christmas event started.
The goal of the map is to collect various objects around the map by standing on top of the item and pressing ↓. Once you pick it up it will disappear, and on the bottom right of the screen the object will reappear with an arrow pointing to an image of where it needs to go (clear any consumables away to see it). Once you get to where you should put it, you will see a glowing outline of where it should go. Stand there and press Space, and then press the directional keys that appear on the screen to place it. There are around 10 items to collect each map, and each 1 gives 1 stocking when placed. Only one item may be picked up at a time.
Earning 100 stockings will give you the title « Snow Angel »(312)
XM4S
[
]
This Lua event was added on 19 December 2016 (V?), three days after the Lua map was added.
In this map, S4nt4 M4u5 will move around the map, dropping presents every few seconds. Move to the present and press Space to collect the present and get points (displayed as # G). Once someone collects the present, it will disappear for everyone. Occasionally, S4nt4 M4u5 will stop moving for a while and become dizzy

. When this happens, press Space to convert all your presents into points for the red bar (#/8). Each point of the red bar represents 10 G, so to completely fill the red bar you have to collect 80 G
Filling up the red bar will give you the title « Elfette »(311)
Rewards
[
]
There is a total of 60 relic fragments, 10 relics consisting of 6 fragments each. 40 of them can be found in

red presents, and the other 20 can be found in
green presents. This is depicted in the following list, by use of color coding. For example, A1 can be found in a green present, whereas A3 can be found in a red present.
You can get multiple relic fragments of a given type, even after you earn a relic. You can only get a specific relic (not relic fragment) once for this event. If you finish a relic and then obtain all the pieces again, nothing will happen. This also allows for people to sell a "complete set" to someone who hasn't gotten any pieces yet. Note that relics are made automatically after collecting all 6 fragments, and may not be sold.
In-game relic fragments are often just called "relics".
Reward
Group
Fragments (1-6)
Relic
30 +
« Souris Sapin »(292)
A

A1

A2

A3

A4

A5

A6
+
50 +
« Christmas Cake »(241)
B

B1

B2

B3

B4

B5

B6
5 +
« Papaille Noël »(310)
C

C1

C2

C3

C4

C5

C6
30+
« Cookies »(240)
D

D1

D2

D3

D4

D5

D6
+
5
E

E1

E2

E3

E4

E5

E6
New
F

F1

F2

F3

F4

F5

F6
30 +
« Christmas Spirit »(128)
G

G1

G2

G3

G4

G5

G6

5 +
« Wintry »(350)
H

H1

H2

H3

H4

H5

H6
30 +
« Christmas Savior »(354)
I

I1

I2

I3

I4

I5

I6
+
50 +
« Big Turkey »(353)
J

J1

J2

J3

J4

J5

J6
+
« Raclette »(415)New

∅

∅
Consumables
[
]
Consumables come in groups of 3, except for tickets
Shops
[
]
New items, or previous items that have had a price change.
Indiana Mouse

| Cost | Reward |
| --- | --- |
| 50 | |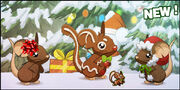 | Image | Name | Type | | | Badge |
| --- | --- | --- | --- | --- | --- |
| | Gingerbread Mouse | Fur | 6000 | 400 | |
| | Christmas Hoodie | Head | 800 | 80 | ∅ |
| | Christmas Bow | Ears | 200 | 40 | ∅ |
Trivia
[
]
Unlike last year's ski map, mice carry a present on their backs when they collect a present.
When Transformice went back online after a long server restart, it had to be restarted again. This was preceded by a server message from Tigrounette blaming Santa.
The ID of the adventure banner is 52 rather than 24 (as would be expected with the last adventure being 23). This is likely because the adventures were meant to be weekly, so the Christmas adventure would fall on week 52.
This is the first event to add an event badge to the Oracle's shop.
The XM4S Lua event present colors were inspired by the Christmas 2014 present colors.
Videos
[
]
External links
[
]