Description
[
]
Unlike past Christmas events, mice can no longer collect presents in vanilla maps at random (only event maps). Although they are now used for other purposes.
This year, mice can unwrap gifts. Red gifts are scattered throughout an event map. If you traded

Red presents, you will be rewarded with one
Green present once you use them.
While

snowballs are collectible from presents, they can also be obtained by ducking (↓) when a map randomly starts snowing (all along the top, not when a user makes a small snowy area). Snow is random and can happen on a maps cheese can normally be gained on.

Bug
Ducking when it's snowing does not always give snowballs.
The new

Reindeer pet is a consumable that last for 1 hour, and is a possible reward for opening

Red or
Green presents (green may be more likely to give).
Tip: You can trade gifts (and other items) in stacks of 10 by holding down

⇧

Shift while you do it.
Tip: When on the Ski map (or in a room with 50+ mice), you can make it easier to find yourself by using the /watch [yourusername] command.
Lore
[
]
This event introduced the following elements to Transformice's story:
The Transformice Ski Resort
Pets
The Transformice Ski Resort used to only be visible from a distance on the login screen. However, 2015 brought a view of the resort's slopes, making it a primary setting for the event.
On the slopes, players were able to see wildlife such as the 'derp bird' and the fully-clothed penguin. These were both only previously seen as relics in Fishing 2014 and Christmas 2014, respectively, with the exception being the penguin, who was also an artifact in Fishing 2015.
Another creature that players were able to see at the slopes were newly discovered pets. Being the first pets to ever arrive to Transformice, reindeer were and still are equippable. Story-wise, they get tired after one hour of being equipped and wander off.
Event maps
[
]
Ski map
[
]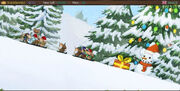 In this event, there is one special map, where the mice have to ski through the map and grab the red gifts scattered throughout the event map.
Players can press ← or → to rotate the mouse, ↑ to jump, and ↓ to slow down. The player has to use the controls to traverse the map, grab presents, and avoid death.
Cold Winter map
[
]

Main article:
Cold Winter 2015
The "Cold Winter" map is a Lua-made event that was released on 28 December 2015 (after the Christmas event had started).
To play this map, you must exit the house (go right), and collected firewood by going under a tree and pressing Space. You do not need fire wood from every tree. You must then bring your firewood back to the house (on the left) and place it in the fireplace (by again pressing Space). Once enough firewood is placed within, the fireplace will light, and you will be given a random number, along with a window that shows a mouse doing a specific action.
To obtain the title « Lumberjack »(376), you have to do the following actions in this order:
sit
cry
laugh
sleep
laugh
angry
dance
AFTER the fire is fully lit, do them on either red or purple presents.
Unwrapping gifts
[
]
When you unwrap gifts, you may get consumables or cartouches. You will receive a title for a random number of gifts opened.
Rewards by present
[
]
Red only
Green only
Consumables
Both
Cartouches

Titles
Badges
Both
(after all 6 present-received event titles are obtained)
Other
[
]
New consumables
[
]
New
[
]
| Image | Name | Effect | Obtain |
| --- | --- | --- | --- |
| | Christmas Postcard | Send an image to a player on Christmas background. | Red or Green present |
| | Reindeer Pet | Reindeer follows you around for 1 hour. | Red or Green present (green may be more likely to give) |
| Image | Name | Type | | |
| --- | --- | --- | --- | --- |
| | Eskimouse Fur | Fur | 6000 | 400 |
| | Toque | Hat | 400 | 40 |
| | Ski goggles | Eyes | 500 | 50 |
Trivia
[
]
This is the first event to award cartouches and pets.
Initially there was a bug causing two consumables to drop when opening a gift (although only 1 was obtained by the gift opener).
Gallery
[
]
Videos
[
]
References
[
]
External links
[
]