Remember Jingle? After hosting the spectacular Christmas 2010 party, he went on a vacation exploring places all around the world. I'm sure several lucky mice had the pleasure to meet him; share your exciting stories on the forums if you did!
Jingle is now back and welcomes you to his modest abode for Christmas. Don't forget to bring some milk and cookies for Santa Maus and his reindeers!
New Items
[
]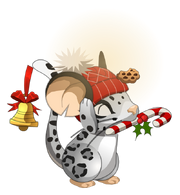 Transformice gives us three new shop items! The bobbie hat, the bell and the candy cane. You can obtain the candy cane when you have received 25 gifts, the beanie when you have received 120 gifts and the bell when you have received 425 gifts.
New Items

| Image | Name | Type | Cost |
| --- | --- | --- | --- |
| | Candy cane | Mouth | 25 gifts received |
| | Winter Bobbie Hat | Head | 120 gifts received |
| | Bell | Tail | 425 gifts received |
Old items

| Image | Name | Type | Cost |
| --- | --- | --- | --- |
| | | | |
Titles
[
]
It was announced that there were new titles this year. Here are the list of new titles you can obtain this year:
Stars on Titles
[
]
In this event, a new feature for titles was also implemented. Your titles can now have stars next to them if you have caught them before the event has started. As an example, the title "Cookie" will become "Cookie ★". Plus, the color of the added star will also be special! *-* If you somehow received them on shop titles, it probably means you have given gifts to other or already received those titles. 
Gifts
[
]
You can collect gifts in many shaman maps! When the event map comes, and you'll notice when it's here because you'll see Papaille dressed as Santa, you can go near the mouse you want to give your gift too. Remember: Gifting others will get you titles, gifting yourself or having others gift you will get you items.
Other
[
]

What do the numbers in the bottom right corner represent?

How many gifts you have so far

/

How many gifts have been given to you

/

How many gifts you have given to others
Maps
[
]
In this map, players are able to send and receive gifts. This is the only event map capable of doing this. To send someone a gift, you must click on someone's mouse and click on the option that pops up when you click on the mouse. The maximum amount of presents each person can give is 10 presents. If you receive a present, you can earn shop items or titles.
Toy Factory
[
]
As if one event wasn't enough, Transformice introduced another event! In this event, you collect toys to give to the elves on the map to unlock two of the three missing items that could not be obtained by the Christmas map! To collect toys, you duck when you come across a toy (a teddy bear, doll, or beach ball). When you are near an elf, you duck to give the elf your toys (1-3). You can obtain Rudolph's Nose when you have diven 50 toys to the elves, the title «Elfette» when you have given 100 toys to the elves and the Christmas Wreath when you have given 150 toys to the elves.
Snowball Fight!
[
]
Also introduced in this Christmas Mania, we have a snowball fight game. When this map appears, you are split into teams. The team with the most people surviving at the end wins! Fun isn't it? You can also earn the title «Ange des Neiges» if you win a snowball fight 5 times and the Icicle Earrings if you survive a snowball fight 5 times.
Gallery
[
]
References
[
]
Events
2021 adventures
February
March
May
July
October
December
2020 adventures
February
March
April
May–June
July-August
September-October
October-December
December
2019 adventures
January
February
March
Summer (June–August)
October
December
2018 adventures
February
March–May
June
October
December
2017 adventures
January
February
March + April
May + June + July
August–November
December
2016 adventures
January
February
March
April
May
Summer (June–August)
September–November
December
Older events
2010
2011
2012
2013
2014
2015
Traditional events
Adventures
Other events