Cats vs Dogs is the third VS shop event in Transformice. You could choose your side by purchasing the fur, item or Fashion Squad outfit of your favourite side. You could also choose your side by posting a selfie of your mouse wearing an outfit either in the Atelier 801 forum announcement thread or in the Transformice Discord #fashion channel using the phrase #TeamCats or #TeamDog.
The winning side was Dogs and their extra item

was added to the shop on 1 April 2021 (V1.633).
Shop items
[
]
| Item | Name | | |
| --- | --- | --- | --- |
| | Coin collar | 300 | 50 |
Cats
[
]
| Item | Name | | | Badge |
| --- | --- | --- | --- | --- |
| | Cat ears | 550 | 60 | ∅ |
| | Maneki Neko | 6000 | 400 | |
Dogs
[
]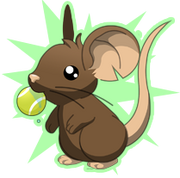 | Item | Name | | | Badge |
| --- | --- | --- | --- | --- |
| | Dog cone | 300 | 50 | ∅ |
| | Shiba Inu | 6000 | 400 | |
| | Tennis ball | 400 | 40 | ∅ |
See also
[
]
Events
2021 adventures
February
March
May
July
October
2020 adventures
February
March
April
May–June
July-August
September-October
October-December
December
2019 adventures
January
February
March
Summer (June–August)
October
December
2018 adventures
February
March–May
June
October
December
2017 adventures
January
February
March + April
May + June + July
August–November
December
2016 adventures
January
February
March
April
May
Summer (June–August)
September–November
December
Older events
2010
2011
2012
2013
2014
2015
Traditional events
Adventures
Other events